Großes Walsertal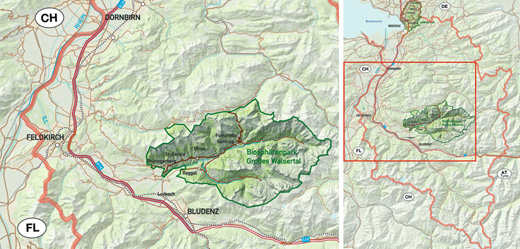 Size (in km²)
Population
Evolution
Number of Households
Number of municipalities
Number of companies
Commuters

190
3.405
0,91 %
1.100
6
440
70 %

Inter-municipal cooperation
Biosphere Park "Großes Walsertal"
Regio (Regional Development Association)
Economic association (cooperation of SMEs)
Walserstolz (regional cheesebrand, marketing cooperation)
Bergholz (Mountain timber, local brand cooperation)
Situation
Migration of workers, no adequate employment in the region;
small sized municipalities that do not see themselves in a position to operate a professional site management;
image problem of the smallness and remoteness;
topographic landscape with steep slopes and no valley;
small size structures of land-ownership.
Objectives
The goal is an inter-municipal cooperation through an office for land use management, joint marketing, organizing region related actions for image-development of SMEs.
Rise the percentage of the crafts sector;
stop the migration of young entrepreneurs;
reduce the number of commuters – more jobs in the region.
Document Actions