COMUNIS Project Synthesis Booklet - now available!
Overview, guidelines and models for inter-municipal cooperation.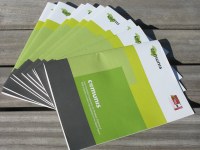 COMUNIS Synthesis Booklet
At the occasion of the COMUNIS Final Conference on 8 March 2012, the Project Synthesis Booklet was presented and distributed to the participants. It gives an overview of - the pros and cons of inter-municipal cooperation for commercial location development (CLD) - the CLD-Guidelines - the models of inter-municipal CLD - transferability of CLD-models to different regional contexts Download the booklet in English from this page.

You can also view shared COMUNIS documents in all languages by clicking here: http://www.slideshare.net/Commercial_Land_Planning/
Document Actions