Third COMUNIS newsletter
Implementation in the Pilot Areas is running and structures in development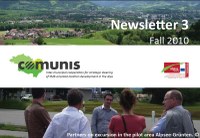 Partners on excursion in the pilot area Alpsee-Grünten. © MW2010
Project meeting in Sonthofen
Intensive project work days and new insights into the German pilot region Alpsee-Grünten.
Location analysis in the French pilot area Tarare
The Balanced Scorecard (BSC) as a method for measuring the current situation and specific development in pilot areas.
Inter-municipal commercial location development: strategic approaches
Numerous of possible strategic approaches were identified on the basis of good pracice examples for CLD.
Vorarlberg - The PLA-model
The Project and Location Association (PLA), regional municipal associations will be in the position to implement strategies for commercial location development and active land policies.
Industrial Ecology in Sierre/CH
University of Applied Sciences Western Switzerland/Institute for Economy and Tourism decided to focus on an integrated development: "Agglo Sierre/Crans-Montana" – industrial ecology.
Launch of work package 7
After development and implementation the evaluation work packages has started
COMUNIS - Forschungsmarkt regiosuisse
Opportunities to gain some insight into the interdisciplinary practice of the New Swiss Regional Policy (NRP) and its development.
Document Actions