COMUNIS update in MRI Europe Newsflash, August 2010
The latest edition of the Mountain Research Initiative (MRI) Europe newsletter features an update on recent activities of the COMUNIS-project.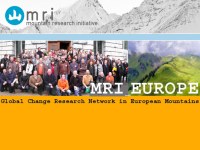 MRI Europe
COMUNIS: Inter-municipal Cooperation for Strategic Steering of SME-oriented Location Development in the Alpine Space
Miriam Weiß, European Academy of Bolzano/Bozen, Institute for Regional Development and Location Management
In the Alpine Space project COMUNIS (co-financed by the ERDF), eleven partners from Austria, France, Germany, Italy, Switzerland and Slovenia aim at facilitating the strategic steering of commercial location development (CLD) on the inter-municipal level. To this end, the location profile, the degree of inter-municipal cooperation, and the framework conditions for commercial land use management were examined in eight pilot areas. On the basis of best practice examples and theoretical models, strategy options of inter-municipal CLD were developed and examined for applicability with regard to the situation and development objectives of the pilot areas. The upcoming months are dedicated to specifying activities so as to prepare the implementation of the chosen CLD-strategies.
Click here to download the MRI Europe Newsflash, August 2010.
Document Actions